Remedial & Pampering Massage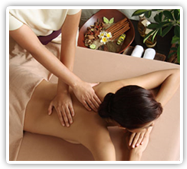 Massage has become a huge part of life for many people and is viewed as both a reward and a necessity. It makes you feel good through the stimulation of key points in your body, but it also has wonderful medical effects, including pain relief, reduced anxiety, improved sleep patterns, and lower blood pressure and heart rate.
Naturally Therapeutic, located at 95 Pacific Highway, Urunga, provides massage services that aim to restore your health and well-being and recovery from a wide variety of physical conditions. Most massage sessions are between 1 and 2 hours, payable through cash or cheque. Book your massage appointment by calling 02 6655 3855. Appointments can be made from 9am-7pm, Mondays to Fridays. Health fund rebates are available from most major health funds.
Pampering Massage
Nothing takes away the stress of a difficult week or the strains of long-distance travel like a pampering massage! With the help of soft music, exotic fragrances and pure essential oils, Christine and her very capable hands will work on those stubborn knots and gear you up for whatever lies ahead. Your mind and body will definitely thank you afterwards.
Remedial Massage
Massage doesn't just offer a break from life's hustle and bustle! Remedial Massage is a must for people who contend with aches, pains and various health conditions. Remedial Massage addresses both short and long-term problems like headaches, neck and back pain, nerve impingement and repetitive strain injury (RSI), among many others.
Christine offers remedial treatments that include the following:
Neuromuscular techniques – the application of pressure on specific areas of the neuromuscular system to alleviate pain and treat injuries
Passive stretching – the stretching of limbs with the help of external forces such as gravity, mechanical devices or the therapist's weight
Cryokinetics – the application of ice to affected areas to reduce pain and enable movement that's otherwise hampered by injury
With a Diploma in Remedial Massage and accreditation from the
Australian Traditional Medicine Society
, Christine will properly diagnose your physical injuries, apply the right kind of remedial massage and get you back in tiptop shape!